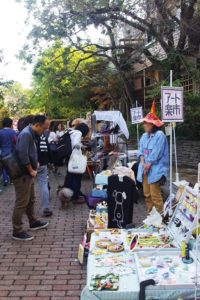 Art Rakuichi, a flea market lined with shops selling handmade art accessories. This year, the venue will be moved to Theatre Tram! 40 shops will be exhibiting their goods while maintaining social distancing. Come visit Art Rakuichi to discover your new favorite treasures.
●Outline of the event
October 17 (Sat) and 18 (Sun)    11:30 to 19:00
Venue: Theatre Tram
Free admission. Reservation required (limited capacity)
●How to enjoy shopping?
Admission times will be staggered. Please be sure to book and have your numbered ticket with the designated date and time issued before coming to the venue.
●Admission times (both days)
①11:30 to 12:00
②12:30 to 13:00
③13:30 to 14:00
④14:30 to 15:00
⑤15:30 to 16:00
⑥16:30 to 17:00
⑦17:30 to 18:00
*You will not be able to enter the venue past the reserved admission time.
*Please make sure to leave the venue within 90 minutes of entering.
●Starting dates for reservations
General: October 11 (Sun), from 10:00
Setagaya Public Theatre Club and Setagaya Arts Card members: October 10 (Sat), from 10:00
●How to book tickets
Setagaya Public Theatre Online Ticketing System (Pre-registration required. Available 24 hours a day.)
PC/smartphone : https://setagaya-pt.jp/en
*Tickets cannot be reserved at the ticket counter or by phone.
*Please have your tickets issued at a Seven-Eleven store after making your reservation through the online ticketing system.