A flea market lined with handmade artwork.
About 100 shops are set up on this usually quiet pedestrian path, and artists and visitors enjoy communicating with each other.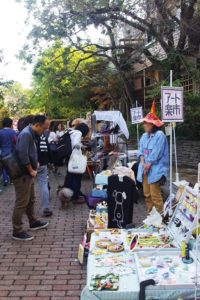 Date & time: Saturday, 19 October – Sunday, 20 October 2019, 11:00 a.m. – 5:00 p.m.
Location: Karasuyamagawa Green Road
*In case of rain, the location, time, or number of shops may be changed, or the market may be cancelled.
*To set up a shop, member registration for Art Rakuichi is required. However, due to the number of current registrants, we are not accepting new members at this time.